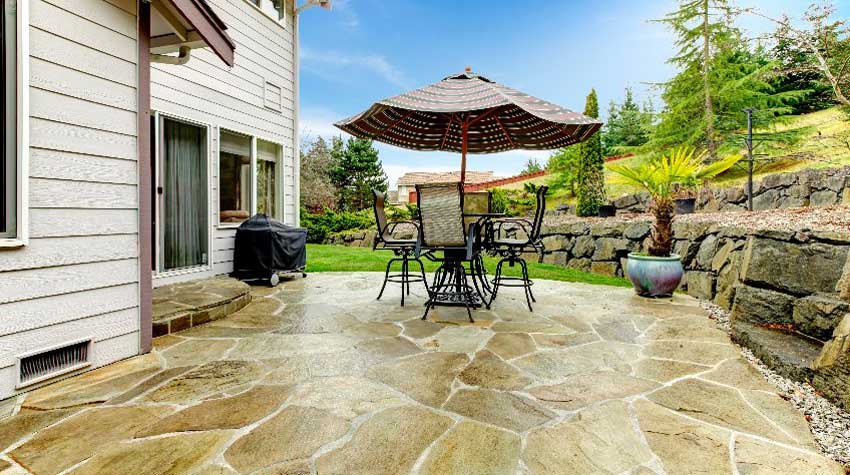 No matter if you are building a house, thinking about building one, or renovating and adding on to an existing structure, it's easy to let your mind wander to a place to enjoy cool, lazy mornings, fireside evenings and the opportunity to catch a few sun rays, without leaving your premises.
We are, of course, referring to a patio. What better way to get away for just a bit without actually having to leave?
While patios are versatile and generally a good addition to most properties, there is one important aspect you may not have considered that is critical to saving yourself some trouble down the road. Do you have a septic tank, and where in your yard is it located?
In general, it isn't a good idea to put anything directly over top of a septic tank, or for that matter any part of the septic system.
Building structures over top of a tank can cause problems later on down the road when it's time to empty or otherwise service it. That can cause the need to remove or destroy part of what you've built in order to reach the tank.
And, in case of emergency, such as a system backup into your home, that situation can create a safety hazard in your home if it takes significant time or resources not immediately available to reach the tank.
Building over your drainfield can also lead to problems because that is a delicate and vital part of your system that isn't easily fixed if it's disturbed.
Restricting oxygen flow into the soil in and around the drainfield, compacting that soil or causing the collapse of the lines in that area are all issues that messing with your drainfield could cause. The most immediately noticeable of these might be the ground becoming unexpectedly wet, muddy and stinky. That's a bad sign and one you should have a septic tank professional look into as soon as possible.
Beyond all of this, there are laws on the books in the form of building codes in at least some states regarding where and how you must build in relation to a septic system.
Patios, or for that matter decks, are absolutely worth looking into. Be sure, though, to do your homework ahead of time to make sure you will create pleasant memories instead of negative ones. And call on Little's to guide you through all your septic-related needs!