Reliable / Experienced / Professional

SEPTIC & GREASE TRAP SERVICE
Dependable & Fast Service!

Need to schedule a service or have questions?

239 Clay St., Wheelersburg, OH 45694
Since 1963: three generations of family-owned business
Little's provides full septic and grease trap services in the Ohio, West Virginia, and Kentucky Tri-State area.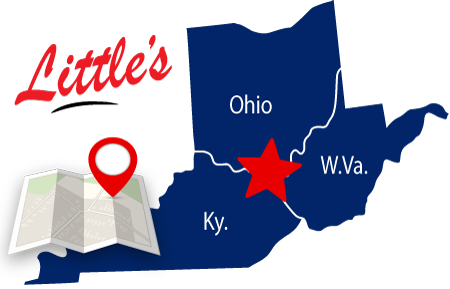 Serving the Ohio, Kentucky, West Virginia Tri-State region!
From septic and grease trap service to excavating, plumbing & more, Little's has you covered!


Amazing Service!! They definitely have a repeat customer here.
On time, very informative. All around a great experience in getting the septic pumped and inspected. Great guys.
Great job getting my septic tank draining again. Great job, I will use them for any future needs.
Friendly, experienced and professional people.
Called them at 8:15 one morning due to problems with our septic system. I had no record of where our tank was located, only a general idea. They were at our home before noon, located and dug down to the tank lid, pumped our tank and refilled the hole all inside of an hour. They were timely and professional and the price was reasonable for all they did. Highly recommend!
Great service. Knowledgeable field staff. Friendly staff.
The driver was on time, called 10 minutes away, was very nice, got job done quick, very affordable, answered all my questions. I would highly recommend this service to everyone.
We woke up to a mess when a floor drain backed up. Called these guys and they dispatched someone right away. I couldn't believe the response time. He was equipped for various possibilities, was very knowledgeable and polite, and stayed until we were comfortable with the results! Will definitely use again!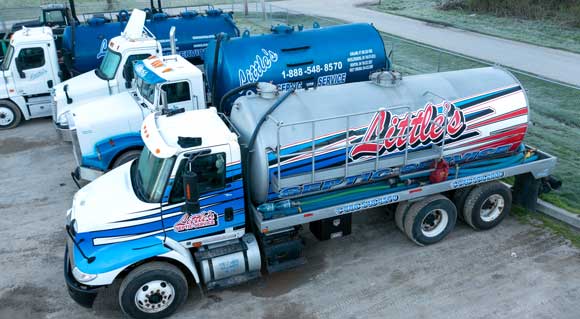 Experienced in design, engineering and installation

Little's is the full-service septic contractor to call for septic systems, septic maintenance, mobile restrooms and more. When you need a fast and dependable septic service, our professionals will come through for you.
Septic systems
(Drip irrigation, modified mound systems, aeration systems with leaching beds)


Septic tank inspections & location


Sump pump and pump well installations


Water line & gas line installations


Plumbing repairs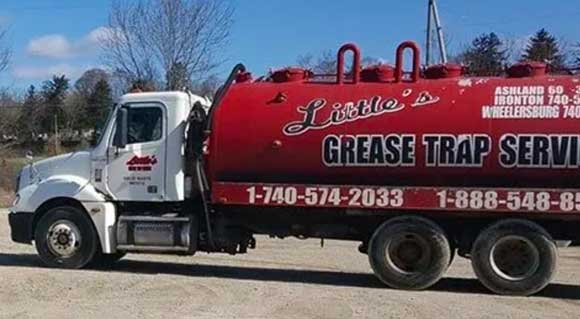 We'll keep your grease trap systems safe and operating smoothly
Our fleet of trucks are flexible and powerful, and able to service nearly any location without disrupting your normal business routine and operations.
Restaurants

Prisons

Nursing homes

Residential communities

Industrial facilities

Government buildings

Hospitals

Small businesses

Please feel free to reach us by sending us a message directly on our website. Just fill out and submit the form in this section and we'll be in touch soon after.
AREAS WE SERVE INCLUDE: Ohio — Franklin Furnace, Lucasville, Minford, Otway, Portsmouth, Rarden, South Webster, Wheelersburg in Scioto County; Aid, Athalia, Chesapeake, Coal Grove, Crown City, Ironton, Kitts Hill, Lawco Lake, Pedro, Proctorville, Scottown, South Point, Waterloo, Willow Wood in Lawrence County; Kentucky — Ashland, Catlettsburg, Grayson, Rush, Summit, Westwood in Boyd County; Flatwoods, Greenup, Lloyd, Raceland, Russell, South Shore, Wurtland, South Portsmouth in Greenup County; Louisa in Lawrence County; Garrison, Vanceburg in Lewis County; West Virginia — Barboursville, Fort Gay, Huntington greater area, Kenova, Lavalette, LeSage, Pritchard, Wayne.